WORLD WAR II MEMORIAL  |  TRIBUTE TO THOSE WHO SERVED
The World War II memorial at the 1919 building was first established in 1942 after the United States entered the war in December 1941. This monument was created to memorialize Washington Township residents who served in World War II.
The City of Dublin plans to relocate and improve the World War II monument with work starting in late fall 2020. After discussions with the City's Veterans Committee, the plan is to replace the stone memorial and move it to Dublin Veterans Park. This change is in partnership with the Dublin Historical Society, which approached the City asking that the current marker be moved to a more visible location. The choice of Dublin Veterans Park as the marker's third location is fitting, as the park also features the Grounds of Remembrance, the Dedication Wall, Memory Walk and more, all which honor those currently serving and have served our country.
Learn more about the history of the World War II memorial and its multiple renditions below.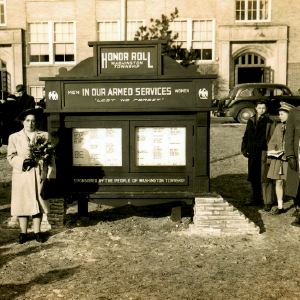 "Lest We Forget". Erected 1942, the Honor Roll was a prominent sign board on which Washington Township officials posted the names of community members as they left for military service in World War II.
The population of the village of Dublin in 1940 was only 237 people; not much larger in 1942. Everyone knew everyone else. When a community member went away to war, that person was likely to be someone you knew, or you knew someone in the family well. The Honor Roll was large and conspicuous, standing in front of the 1919 Building, 144 West Bridge Street. At that time the building was called the Washington Local Schools for students in all grades 1-12. It was the only Dublin school. Bridge street was two lanes wide. The Honor Roll was almost directly across from the Dublin Community Church, so these were two buildings central to the Dublin community.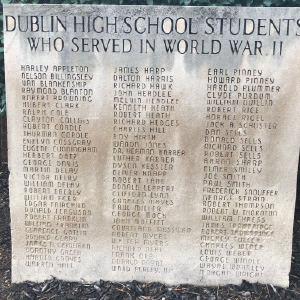 The Honor Roll board was removed sometime after the war when its condition began to deteriorate. The names were transferred to a new display inside the school building. That indoor display was moved several times during renovations leading to the decision for the permanent marker outside the 1919 building, with names of the Dublin High School students. This is the one in front of the southeast door, by the low brick wall.
At the same time, the Service Class, an organization of women in the Dublin Community Church created a banner on which they embroidered the names of community members who left for the service. This banner was displayed in the church, what today is called the Gladden Chapel.