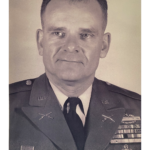 Former Dublin resident Willard "Bill" Chambers wrote the award-winning poem "Normandy" between 1957-59, while he was stationed at Fort Bragg, North Carolina.
Bill was inspired to write the poem after serving in World War II with the 507th Parachute Infantry Regiment. The 507th was part of the 82nd Division (later changed to the 17th Airborne Division for Operation Varsity, the jump over the Rhine River into Germany). The 507th jumped into Normandy on June 5, 1944, with 2,200 men and returned with fewer than 700.  Bill was decorated with two Silver Stars and two Bronze Stars, all for valor.
Bill later served in Korea with the 187th Parachute Infantry Regiment. After his retirement from the Army in 1966, he went to Vietnam with the Agency for International Development (AID) where he spent 6 1/2 years before returning to Dublin.